ANAÏS NIN, VIVRE SANS ENTRAVE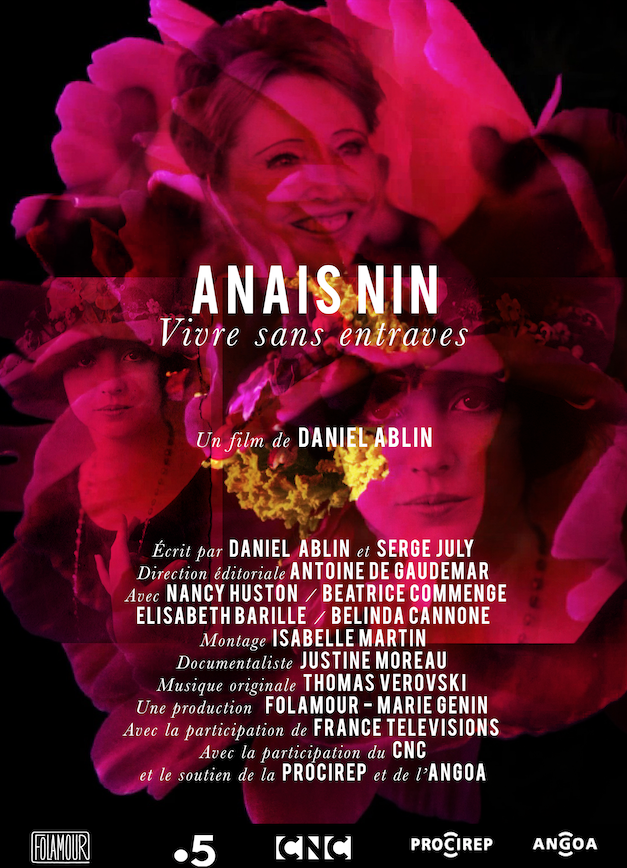 | | |
| --- | --- |
| Director | Daniel Ablin |
| AuthorS | Daniel Ablin and Serge July |
| Original score | Thomas Verovski |
| Image | Valentin Caron, Pascale Marin |
| Sound | Thierry Blandin |
| Editing | Isabelle Martin |
| Lenght | 52′ |
| Format | HD, 16/9e |
| Versions | French – English |
| Copyrights | Folamour – 2021 |
| Broadcasters | FRANCE TÉLÉVISIONS |
Protagonists : 
Nancy HUSTON, writer
Beatrice COMMENGE, writer and translator of Anaïs Nin's books
Elisabeth BARILLE, writer
Belinda CANNONE, writer
France-American writer of the 20th century, Anaïs Nin made her life the sole subject of a labyrinthine and monumental personal journal. 35,000 pages, an unparalleled achievement in the history of literature. This journal will deeply impact generations. 
A chameleon-like woman, seductress, sexual conqueror, she transgressed all codes of morality and turned deceit into an art of living. But who is the real Anaïs Nin? A mythomaniac, an erotomaniac, a scandalous woman? Or a modern, liberated woman ahead of her time, who, in a world tailored for men, consumed life on her own terms?