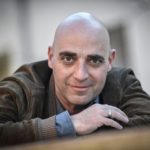 Emmanuel Hamon worked as assistant director on many films, including Patrice Chéreau's "Queen Margot ", Maurice Pialat's "Le Garçu" and Robert Altman's "Prêt-à-porter"(Ready-to-wear), before devoting himself to directing political and historical documentaries. His films are broadcasted on Arte and France Televisions and are regularly rewarded in festivals.
Emmanuel has directed, among a dozen documentary films, "L'utopie des images de la révolution russe" (The Russian Revolution through its films) (2017, selected at the Venice Mostra, the Mar del Plata, Thessaloniki, Pessac, Amiens festivals…) and is notably the writer-director of a two-part film " Irelande(s),l'aube d'un pays" (Ireland(s) the dawn of a country) (2016, Etoile de la Scam), "De Sarajevo à Sarajevo" (From Sarajevo to Sarajevo) (2014), "Maurice Papon itinéraire d'un homme d'ordre"  (Maurice Papon, journey of a man of order) (2010, Grand Prix of the Historical Film Festival in Blois), and "Une épuration française" (A french purification) (2009, Etoile de la Scam). He is also known for his documented portraits of writers such as Jean-Philippe Toussaint and Emmanuel Carrère, or of the great Palestinian intellectual Edward Said in "Selves and others, a portrait of Edward Said" (2003), which won awards at numerous festivals (FIPA, Sunny doc of Marseille, Vancouver, Ottawa, San Francisco, Copenhagen, MEDfilm, Sao Paulo, Toronto…).
Emannuel Hamon is also the director of two short films, "Coup de Lune" (Moon strike) and "Nord Sud" (North South), both selected in festivals and broadcast on television.
His first feature film "Escape from Raqqa" (starring Swann Arlaud, Finnegan Olfield, Jisca Kalvanda, Charles Berling) was released in 2019 in France.
With Folamour, he directed "Once upon a time… SHOPLIFTERS" (52″, Arte) in 2020.